Discover the country side of Bonaire by SUV or pickup.  Bonaire has many unpaved roads  and 4 official Car Trails.
You can find what to expect about the trails below each map.
Bara di Karta trail
The Bara di Karta driving trail, named after the eponymous hill 'Bara di Karta' (57 meters), is about 15 kilometers long. You drive in about an hour and a half past various sights. On this route there is a picnic spot with three Tamarind trees where you can rest in the shade.
Rincon Goto and Onima trail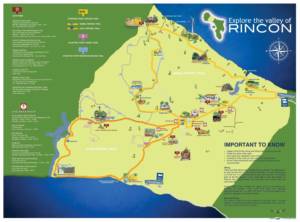 With the "Onima Driving Trail" you discover the valley of Rincon. This driving trail takes you in an hour and a half along small farms, water catchment areas and then along the rugged east coast of Bonaire.
Along the "Goto driving trail"  you have an excellent view of the village of Rincon, you can visit an old plantation house and admire Lake Goto.
Tras di Montana trail
This agricultural area is called Tras di Montaña, which means: behind the mountain. A driving trail and two hiking trails are marked to experience Tras di Montaña at its best. You can visit a Bonairean goat farm and a botanical garden. There is a nice picnic area along the trail. On this trail special attention is given to the native fruit trees and important Bonairean trees. The driving trail of Tras di Montaña is approximately 8 kilometers in distance. If driven nonstop with limited speed, it will take one hour.
Important to know
get your copy of the map at the beginning of the route
Usage of the driving, hiking and bike trails is at your own risk
Follow the yellow route signs
Conditions of the road can vary, drive with limited speed
Routes are only possible with a 4×4 car
Don't leave any valuables in your vehicle
Important to know
get your copy of the map at the beginning of the route
Usage of the driving, hiking and bike trails is at your own risk
Follow the yellow route signs
Conditions of the road can vary, drive with limited speed
Routes are only possible with a 4×4 car
Don't leave any valuables in your vehicle
Important to know
get your copy of the map at the beginning of the route
Usage of the driving, hiking and bike trails is at your own risk
Follow the yellow route signs
Conditions of the road can vary, drive with limited speed
Routes are only possible with a 4×4 car
Don't leave any valuables in your vehicle